Soul Deep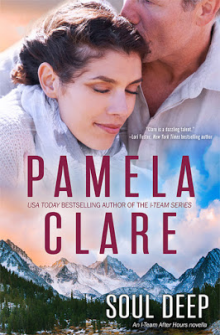 About the Book
Rancher Jack West knows what it means to love a woman with all his heart and to lose her far too soon. A widower for seven long years, he thinks love and romance are a thing of the past, nothing more than cherished memories. He devotes himself to his grown son and his family, the horses they raise, and the land that has been theirs for three generations. He doesn't know that life has a surprise in store for him in the form of Janet Killeen, the lovely FBI agent he threw off his land last winter. The bullet that left Janet Killeen seriously wounded also tore a hole through her life. All she wants is a little peace and quiet in the mountains, a chance to feel like herself again. That chance comes to an abrupt end when she goes off the road in a snowstorm and winds up stranded alone in a ditch. The last person on earth she wants to see is that arrogant jerk Jack West, no matter how handsome he is. But from the moment Jack finds her and offers her his hand, she realizes there's far more to this gruff cowboy than she had imagined. But trouble is brewing at Cimarron Ranch. A deranged man with an inscrutable motive is moving in for the kill, threatening to end Jack and Janet's romance before they can claim a love that is … Soul Deep.
Disclosure of Material Connection: Some of the links in the page above are "affiliate links." This means if you click on the link and purchase the item, I will receive an affiliate commission. I am disclosing this in accordance with the Federal Trade Commission's
16 CFR, Part 255
: "Guides Concerning the Use of Endorsements and Testimonials in Advertising."