Deadly Intent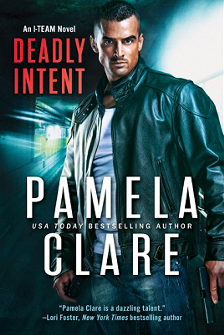 About the Book
Secrets buried in the sand…
Former US Army Captain Mia Starr has built a new life for herself in Denver, far away from camel spiders and sand—and the terrible secrets of her first deployment to Iraq. She isn't looking for a relationship, especially not with an intrusive photojournalist. Joaquin Ramirez might be sexy, but in her experience, photojournalists only want to make a buck off other people's suffering. Still, the universe must have a sick sense of humor because it keeps throwing her together with Joaquin, making the desire she feels for him harder and harder to resist.
An undeniable attraction…
As a Pulitzer Prize-winning news photographer, Joaquin has everything a single, straight guy could want—except the right woman. When he meets Mia while shooting a crime scene, he immediately sees beyond her cold exterior to the vulnerable woman beneath. Though the police consider her a suspect, he's sure she's innocent. Someone is killing soldiers—and trying to pin the blame on her. Unable to resist the pull between them, Joaquin stands by her, only to find himself snared in the killer's net as well.
A twisted soul hungry for revenge…
Mia can't help it when the heat between her and Joaquin melts away her preconceptions. As their passion explodes, danger draws ever closer. When it becomes clear that Mia is the killer's true target, she must trust Joaquin with a secret that could ruin her … or risk losing the love of a lifetime.
Disclosure of Material Connection: Some of the links in the page above are "affiliate links." This means if you click on the link and purchase the item, I will receive an affiliate commission. I am disclosing this in accordance with the Federal Trade Commission's
16 CFR, Part 255
: "Guides Concerning the Use of Endorsements and Testimonials in Advertising."