Skin Deep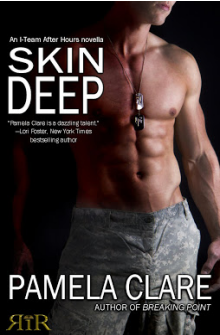 About the Book
Broken on the inside: Megan Hunter has worked hard to get back on her feet, leaving the nightmare of her teenage years behind. The last thing she wants or needs in her life is a man. But when she is attacked by someone from her past, a scarred stranger intervenes, saving her life and that of her little girl. Looks can be deceiving, for despite the man's rough appearance, she feels safe with him. And for the first time in her life, she knows the stirrings of desire. Broken on the outside: Nathaniel West paid a high price serving with the Marines in Afghanistan. He returned to his family's ranch in the Colorado mountains to heal-and be alone. Disfigured as he is, he has put all thoughts of sex and romance aside. But something about Megan brings him back to life, heats his blood, makes him feel like a man again. As danger pursues her, and the truth about her past is revealed, he vows to protect her-and to heal her wounded spirit. But confronting the past is never easy-especially when it's carrying a gun. Megan will have to learn to trust Nate to survive and to claim a passion that is much more than … Skin Deep.
Disclosure of Material Connection: Some of the links in the page above are "affiliate links." This means if you click on the link and purchase the item, I will receive an affiliate commission. I am disclosing this in accordance with the Federal Trade Commission's
16 CFR, Part 255
: "Guides Concerning the Use of Endorsements and Testimonials in Advertising."