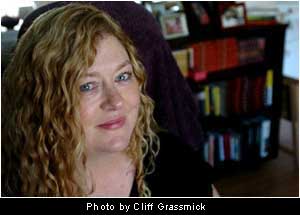 I have been in love with fiction since I discovered Misty of Chincoteague at the age of 9. By the time I was 12, I'd read all of Marguerite Henry's books, along with the entire Nancy Drew series, the works of C.S. Lewis, J.R.R. Tolkien, Fyodor Dostoevsky, and Ayn Rand. Already at that age, I knew I wanted to be a novelist when I grew up.
Then, when I was 15, something extraordinary happened. I discovered romance novels. The first romance I ever read was The Flame and the Flower by Kathleen Woodiwiss, followed soon after by Shanna and Rosemary Rogers' Sweet, Savage Love. I gave up depressing intellectual classics for stories that made my heart beat faster — tales of bravery, passion, and love. I found that I preferred happy endings to sad ones, no matter how artsy or intellectual they were.
I had the good fortune of becoming an exchange student during my senior year of high school and went to Denmark. I lived in 200-year-old thatch-roofed farm house with a host family that became a true family for me. I fell in love with the small Scandinavian country and stayed for almost three years, traveling throughout Europe and learning to speak Danish fluently. My time visiting European castles and cathedrals awakened in me a love of history. Those memories are among my most precious.
When I returned to the United States, I got a degree in Classics — Latin, Greek, ancient history, and archaeology. This background has translated into a love of historical detail, which I hope readers can see in my historicals. For me, there's nothing better than feeling a time period come alive when I'm writing, as if I were really there in the middle of it.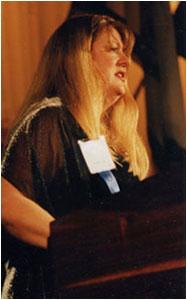 Although I did work on a master's degree in archaeology and later art history, I realized that I was using the university to avoid the challenge of building the career I truly wanted — that of a fiction author. I dropped out of graduate school and went to work for a newspaper and held almost every position in the newsroom before becoming the paper's first woman editor. Over the years, I've won numerous awards for my work as a columnist and investigative journalist, including the National Journalism Award for Public Service, the First Amendment Award and the Keeper of the Flame Lifetime Achievement Award from the Colorado Chapter of the Society of Professional Journalists.

Though my ultimate goal was always to write fiction, journalism taught me discipline and helped me improve my writing skills. Little did I know that it was also giving me close-up experience with issues that would later find their way into my I-Team series. The I-Team itself is loosely based on what I call my Dream Team — the best bunch of investigative reporters I've ever known. 

I now write historical romance and contemporary romantic suspense, while still holding down the job of editor-in-chief at a weekly paper. I love nothing more than the moment my characters become so real that they start telling me what to do. Though historicals are my favorite romance sub-genre to read, I thoroughly enjoy writing romantic suspense, drawing on my own experiences as a journalist.

I live in Boulder, Colorado, next to the Rocky Mountains. I grew up hiking in the foothills and love it when I have the time to spend an afternoon hiking, watching hawks and eagles fly or enjoying the beautify of wildflowers. There's nothing quite as majestic or breathtaking as the American West, and I'm very lucky to have spent most of my life here. I have two young adult sons — Alec and Benjamin. Most of my days are spent writing or doing research.

I love to hear from readers. You can reach me by signing my guestbook [HERE], or by writing to me via snail mail at:

PO Box 1582
Longmont , CO 80502